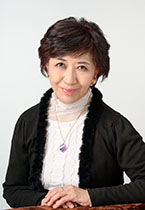 You tube video of Harue Kunieda's Work 'Floral Tributes' for Shakuhachi, Percussion and Piano (2015) by Kumamoto Prefectural Theater 'Art Channel' (Ouchi de Hakusyu wo)


You tube videos of Harue Kunieda's work for choral music.

The coronavirus problem has had a very bad influence on live performance activities around the world.
Especially on choral music, opera and other such singing activities where powerful and deep breathing is necessary.
As musicians we should avoid congregating in crowded places such as rehearsals rooms and audiences should avoid crowded auditoriums.
So, some music publishers are thinking about the new ways to allow people to hear musical performances, and one good way is on you tube.

Please listen to these videos:

'Floral Tributes II for Four Flutes' had a lovely first performance at the 16th concert of the 21st Century Composer's Association on the 8th of May 2019 (Flutes: Junichiro Taku, and other flutists).
'Music for Strings, Percussion and Shakuhachi : Floral Tributes III' had a wonderful premier on the 17th of November 2017 performed by the Tokyo Symphony Orchestra.
(Conductor: Yoichi SUGIYAMA; Shakuhachi: Seizan SAKATA; Percussion: Mizuki AITA).
It was a part of the Orchestra Project Concert 2017 at Tokyo Opera City Concert Hall.
This piece was selected for ISCM World New Music Days in Beijing. It had its second performance at Closing Concert, ISCM Festival on the 26th of May 2018.

On the 13th of March 2018 an international conference was held at L'Istituto Giapponese di Cultura in Roma /The Japan Foundation/ Kumamoto University.
I performed my piece 'Passacaglia for Piano Solo' from the folksong 'Yo-he-ho' of the Yamaga Lantern Dance Festival at the Japan Foundation Hall in Rome.