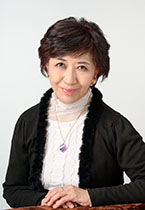 Season's Greetings from Harue KUNIEDA
Some updates on my recent activities:
My piece 'Jiyuwansama no Shima for Mixed Chorus and Organ'will have its second performance at the 25th concert of the Chamber Chorus NISSHO in Toyosu Civic Center on the 14th of June 2019. (Conductor:Shinichi Nakadate, Organ:Kaori Omori) 'Floral Tributes II for Four Flutes' had a lovely first performance at the 16th concert of the 21st Century Composer's Association on the 8th of May 2019 (Flutes: Junichiro Taku, and other flutists).


'Music for Strings, Percussion and Shakuhachi : Floral Tributes III' had a wonderful premier on the 17th of November 2017 performed by the Tokyo Symphony Orchestra.
(Conductor: Yoichi SUGIYAMA; Shakuhachi: Seizan SAKATA; Percussion: Mizuki AITA).
It was a part of the Orchestra Project Concert 2017 at Tokyo Opera City Concert Hall.
This piece was selected for ISCM World New Music Days in Beijing. It had its second performance at the Clothing Concert, ISCM Festival on the 26th of May 2018.

On the 13th of March 2018 an international conference was held at L'Istituto Giapponese di Cultura in Roma /The Japan Foundation/ Kumamoto University.
I performed my piece 'Passacaglia for Piano Solo' from the folksong 'Yo-he-ho' of the Yamaga Lantern Dance Festival at the Japan Foundation Hall in Rome.